LSA T3 turntable

$3,750.00 incuding $500.00 upgrade kit & $250.00 dust cover

Our beautiful T-3 turntable offers superb performance and is offered at an Internet Direct low overhead price-Call to discuss this superb table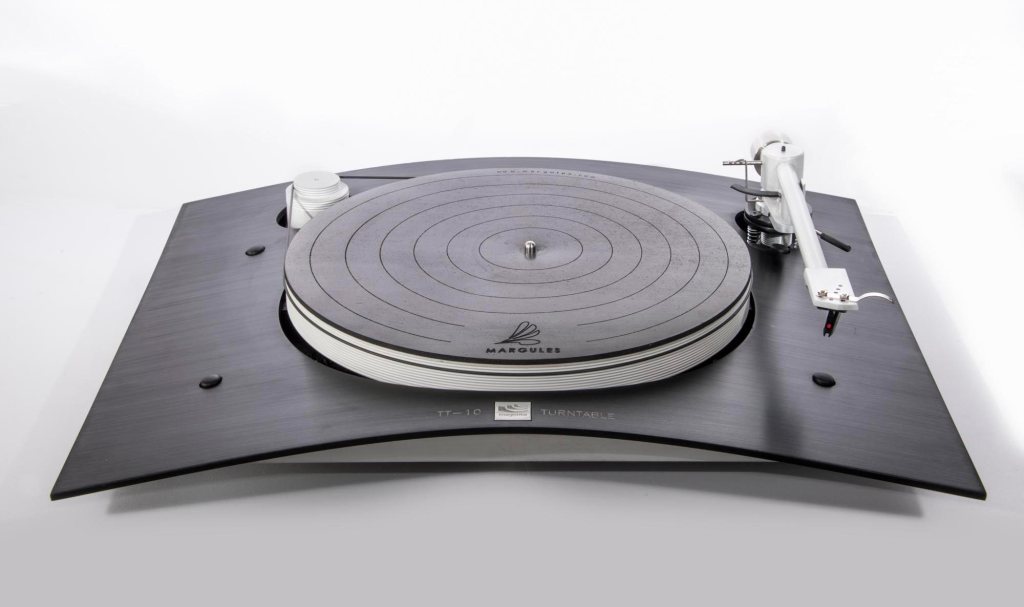 The T-3 has a machined high-mass platter (from a single block of aluminum) sitting in a ball bearing bushing. The platter is driven by a synchronous low noise, low RPM and low torque motor. It is suspended in a spring mounting to avoid noise induction to the turntable. The motor pivot is also ball bearing.

The T-3 has three contact or resting points: two inverted conical isolation feet, height adjustable for leveling, and the isolated motor assembly to transfer energy away from the turntable.
The arm mounting is universal, and you can easily adjust it for vertical tracking angle and azimuth. The T-3 comes with the UP-01 uni-pivot tonearm. The 9.5-inch tonearm is made of anodized machined aluminum. The tonearm also has internal antiresonance rings. The UP-01 allows for easy and precise adjustment of overhang, azimuth, anti-skating, and tracking weight. All of this results in a table that has dead-on speed accuracy, quiet background and an arm that tracks beautifully.
It comes with a $500.00 upgrade kit including $660.00 worth of goodies, a $500.00 turntable resonance control weight, $40.00 digital VTF scale, $40.00 cartridge alignment protractor (VTA, overhang & azimuth), one $30.00 spare belt and $50.00 cork/rubber compound platter mat.
It also conmes with a custom $250.00 dust cover.
Specifications



Belt driven, 33 & 45 RPM
Uni-pivot tonearm included (can be changed by end-user)

Interchangeable Arm mini-din connector

Fully adjustable VTA, azimuth, tracking force

High mass, 5kg (11 lb.) solid aluminum platter

RCA output connectors

Rigid, low resonance frame

Extremely low friction spindle assembly;  ball-bearing spindle

Motor Type: AC smooth low speed 24-pole synchronous motor.

Synchronous motor, 250 RPM, very low RPM and torque, very low friction bearing

Wow and flutter < 0.15%

Dimensions (height, width, depth): 6" x 21″ x 16" (15cm x 52 cm x 41cm)

Total Weight: 18 pounds

Included accessory kit: 
1 cork/rubber compound platter mat, 1 digital scale for tracking force, 1 custom protractor for the correct overhang and VTA and azimuth settings, one spare belt, 1 stainless steel Magenta Turntable Resonance Control (TRC – list price $400)

Warranty on Parts & Labor: 2 years from the original purchase date